Trentino you don't expect, Trentino you still have to explore
Enjoy Invest in Trentino's journey through the most innovative sides of Rovereto and Trentino
Rovereto as the capital of innovation. The bond between Trentino's second largest city and industrial and technological innovation has always been tight. The approach to the city of the Wired Next Fest, the most important free-admission event in Italy dedicated to innovation and the impact of digital technologies, only confirms this award.
The Wired Next Fest in Rovereto is scheduled on 6 and 7 May 2023. The city is already preparing to welcome the visitors of what will be the 10th edition of the festival promoted by Wired Italia, which has chosen Trentino to foster the debate on the innovative future of Italy, with territories and their ability to connect with the world at the centre.
The Wired Next Fest Trentino will be a widespread edition, with the streets and some of the most famous historical buildings of the city ready to host meetings, exhibitions, live performances, workshops, laboratories and much more.
No Wired Next Fest is complete without quality national and international guests and the Trentino edition makes no exception: keep following Invest in Trentino to find out all about the festival's VIPs ready to discuss the role of innovation as a tool for growth and well-being.
Would you like to participate in the Wired Next Fest Trentino? Register here!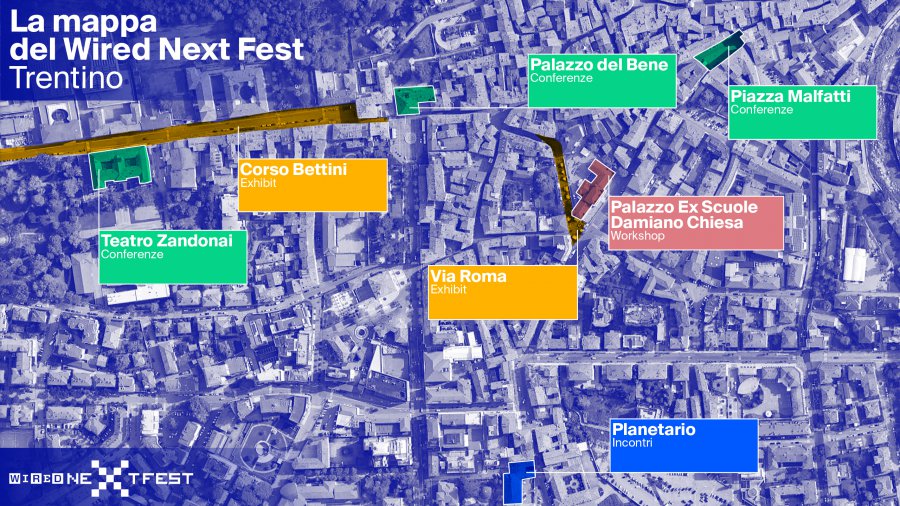 WIRED NEXT FEST TRENTINO: WHY IN ROVERETO?
Why Wired Next Fest in Rovereto? There are many reasons why Wired Italia and the autonomous Province of Trento have chosen the Trentino city to host the most famous national kermesse entirely dedicated to innovation:
- a first-rate history and industrial tradition
- one of the highest innovation rates in Italy
- an effective incubation and business support system
- accurate plans for the future - innovative, digital and sustainable - of Trentino
Rovereto, more than any other territory of the Province of Trento, embodies and represents the innovative Trentino that is both rich in opportunities and still barely known and even unexplored.
This is why Invest in Trentino has decided to follow the arrival of the Wired Next Fest in Trentino with "Why Wired Rovereto", an in-depth 3-part feature dedicated to the history, present and future of Rovereto, a city that is a candidate as the ultimate destination for all innovative professionals and businesses looking for a thriving environment where their ideas can grow.
The pulsing heart of innovation in Trentino "beats" in Rovereto, find out why with Why Wired Rovereto.

Why Wired Rovereto
Past, present and future of the city symbol of innovation "made in Trentino