FIND OUT MORE ABOUT THE PLATFORM OF TRENTINO ENTERPRISES OPERATING IN THE ORGANIC PRODUCTS PROCESSING SECTOR 
Organic Trentino is the Trentino Sviluppo platform dedicated to the enterprises that process organic products.
#discover organictrentino: watch the project presentation video.
TRENTINO'S ORGANIC SECTOR IS GATHERING INCREASING INTERNATIONAL CENSUS 
Most of the organic products processed consist in fruits and vegetables, especially apples, grapes and wild berries, the products resulting from the processing of milk and meat, extra virgin olive oil, pasta, baked goods and sweets, fish and handmade beer.
The positive numbers of the organic product industry in Trentino – presented in the infographics – has generated the need to create the Organic Trentino platform as:
the virtual place for creating new synergies and connections

an updated portal showcasing the opportunities, calls for tender and training projects for Trentino's organic sector operators

the point of reference for Trentino enterprises operating in the organic products processing sector.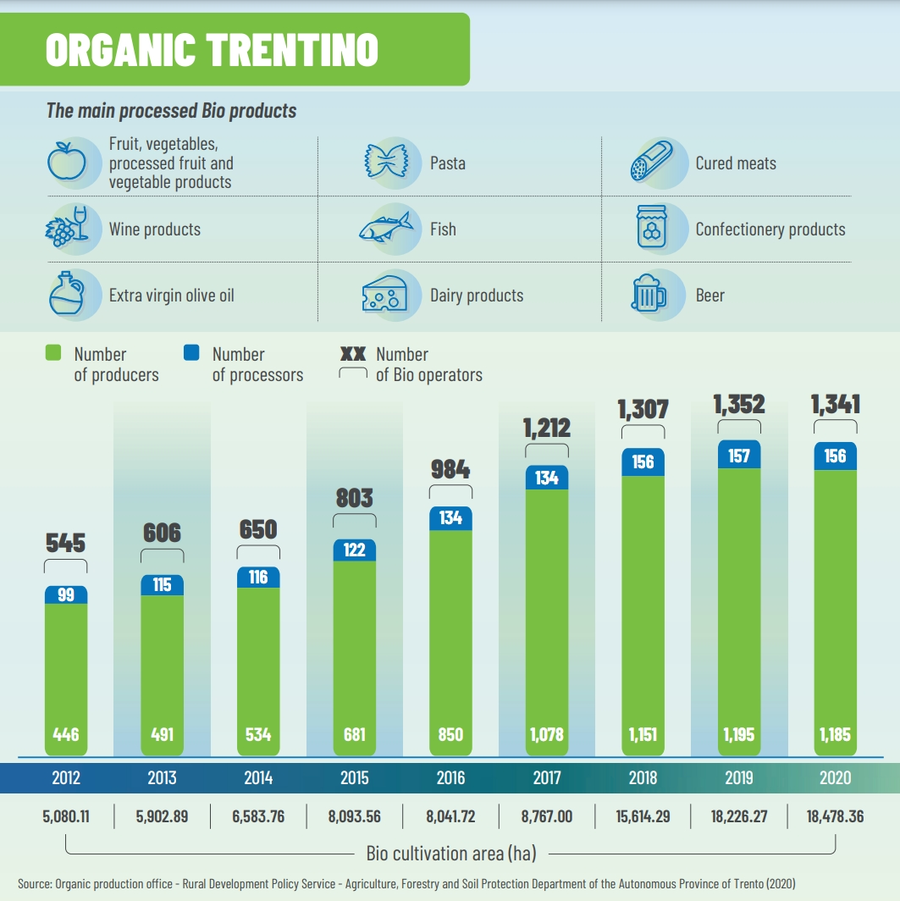 TRENTINO FLYES TO BIOFACH!
Participation with the Trentino Stand in the world's largest event dedicated to organic food is one of Organic Trentino's major projects.
Being present at Biofach not only offers the participating Trentino companies important trade opportunities, but is also a chance to make them renowned as the components of a wider organic production system in Trentino that consists of companies, products, research and innovation in the food sector.
From 14 to 17 February, a group of Trentino enterprises will participate in Biofach 2023 in Nuremberg.
Are you interested in Organic Trentino and wish to find out more about its benefits for your company? Do you need more info about one or more initiatives promoted through the new platform dedicated to processing enterprises holding organic certifications?
The internationalization team of Trentino Sviluppo is at your service!
Info: internazionalizzazione@trentinosviluppo.it